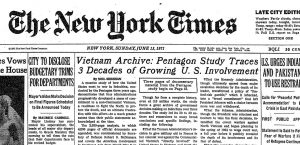 46 years ago today, the first of what would become known as the Pentagon Papers were published by The New York Times. The papers were a classified report that contained damning evidence that the administration of President Lyndon Johnson had been lying to the public and Congress about the Vietnam War, and that the administration had secretly expanded the size of the war to include surrounding countries. The report was leaked by one of its authors, Daniel Ellsberg. President Richard Nixon, Johnson's successor, sued The Times to prevent further publication of the papers, so The Washington Post and other publications printed them instead.
On June 30, 1971, the Supreme Court ruled 6-3 in New York Times Co. v. United States that the White House had failed to show proper cause to prevent the publication of the Pentagon Papers and that The New York Times was protected by the First Amendment's guarantee of Freedom of the Press. In his concurring opinion, Justice Hugo Black wrote of the essential role the press plays in our democracy. "In the First Amendment, Black wrote, "the Founding Fathers gave the free press the protection it must have to fulfill its essential role in our democracy. The press was to serve the governed, not the governors. The Government's power to censor the press was abolished so that the press would remain forever free to censure the Government. The press was protected so that it could bare the secrets of government and inform the people. Only a free and unrestrained press can effectively expose deception in government."
Learn more about the Pentagon Papers in our film Freedom of the Press: New York Times v. United States.