About the Film
Freedom of the Press. It's right there in the First Amendment of the Bill of Rights: "Congress shall make no law respecting an establishment of religion, or prohibiting the free exercise thereof; or abridging the freedom of speech, or of the press…." The Framers put it there because free speech and an independent press had been essential during the Revolutionary War. But the very men who wrote these freedoms into the Constitution, they were also the first ones to try and undo them. And they weren't the last.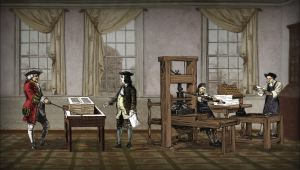 Freedom of the Press: New York Times v. United States tells the story of Americans throughout our history who fought to have their voices heard even when those in power tried to stop them. Congressman Mathew Lyons served months in jail for criticizing President John Adams, Eugene Debs was sentenced to 10 years in prison for a speech criticizing World War I, and in 1971 President Richard Nixon tried to stop the New York Times from publishing a classified report on the Vietnam War that came to be known as the Pentagon Papers.
Daniel Ellsberg worked in the Department of Defense and had served in the Vietnam War. He was a supporter of the war – that is, until he was involved in creating a 7,000-page report about it for the Pentagon. The more he learned, the more Ellsberg believed that the government had lied about why it went to war in Vietnam, and that its policies were covering up the fact that the US was losing the war.
Ellsberg copied the report and brought it to members of Congress. When they refused to make it public, he brought it to the New York Times, who published an entire series of articles about the Pentagon Papers. This didn't sit too well with President Nixon. For the first time in history the White House sought to have a federal court to stop a newspaper from publishing an article. The resulting legal battle would go all the way to the Supreme Court – and its outcome would have a lasting impact on the First Amendment rights of all of us.
Further Reading
The Bill of Rights at the National Archives
The Constitution Center's Interactive Constitution on Freedom of the Speech and Freedom of the Press
The Pentagon Papers at the National Archives
The New York Times reporting on the Pentagon Papers
Nixon Tape Excerpts Related to the Pentagon Papers from the National Security Archives at George Washington University
"First Domino: Nixon & The Pentagon Papers," The Miller Center at the University of Virginia
Credits
Producers, Robe Imbriano and Maria Matasar-Padilla
Writer and Narrator, Robe Imbriano
Editor, Marc Tidalgo
Graphic Animators, Thomas Curtis and Hiroaki Sasa
Photography, Edward Marritz
Senior Production Associates, Lily Plotkin and Bonnie Birmingham
Sound, Mark Mandler, Roger Phenix and Peter Ginsburg
Music, Audio Network
Post Production Editor, Evan Anthony, Frame: Runner, NY
Re-recording Mixer, Neil Cedar, Sync Sound, Inc.
Head of Production, Innbo Shim
Production Accountants, Mara Connolly and Andrea Yellen
Assistants to the Executive Producer, Ashley Meek and Amanda Winograd
Senior Producer, Kayce Freed Jennings
Executive Producer, Tom Yellin