In January of 2009, a legend of American law, Sandra Day O'Connor, sat down with a legend of American jazz, Wynton Marsalis. That conversation has become the foundation for Let Freedom Swing!, a new project for schools to be launched this fall. A collaboration with Jazz at Lincoln Center and Columbia Teacher's College, with funding from the Rockefeller Foundation, Let Freedom Swing! uses video, print and web resources to explore the relationship between jazz and democracy in America. This seemingly unusual pairing of ideas can lead students to deep insights about their nation's history and their role in society.
About the Films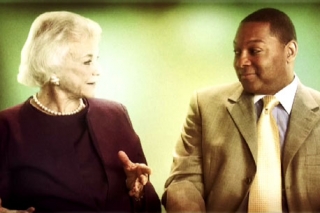 America's democracy and America's first original art form have a lot in common. Both call on participants to engage with each other and to work together towards a common purpose. Both encourage participants to express themselves but at the same time require them listen to what each has to say. Both allow participants to reinvent the work of the past, to reinterpret it in the present and in the future. And both ask participants always to strive for "a more perfect union."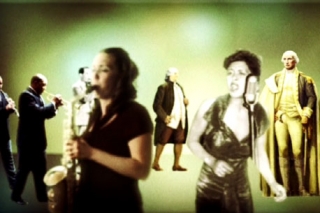 Let Freedom Swing!
uses creative filmmaking techniques and interviews with scholars and musicians of all ages and backgrounds to tell the story of these American innovations. It is divided into three sections. "We the People" explores how both jazz and democracy give each participant a voice and a stake in society. "E Pluribus Unum" explores how in order for jazz and democracy to thrive those participants must work together. And "A More Perfect Union" explores the aspirations and challenges of living up to the American ideal — and how jazz has often led the way.
"Our union is an imperfect union. We're always working to make it more perfect," Wynton Marsalis says. "We're always trying to achieve something that would be better for all of us."
Image Gallery
[Not a valid template]
Credits
Writer, Producer and Narrator, Robe Imbriano
Associate Producer, Gregory Blanc
Editor, Marc Tidalgo
Graphics Animators, Victoria Nece and Hiroaki Sasa
Photography, Edward Marritz
Production Associate, Andy Ogden
Field Producer, María E. Matasar-Padilla
Supervising Producers, Christina Lowery and Heidi Christenson
Sound, Mark Mandler
Gaffer, Ned Hallick
Additional Photography, Michael Pruitt-Bruun and Daryl Patterson
Production Accountants, Mara Connolly and Andrea Yellen
Graphics Intern, Michael Troung
Interns, Emily Tango and Michael Chance
Assistant to the Executive Producer, Lauren Mitte
Senior Producer, Kayce Freed Jennings
Executive Producer, Tom Yellin