About the Film
"Voting is the most basic right of a citizen. The most fundamental right and obligation is to participate in choosing people who will lead our country."
Ruth Bader Ginsburg, Associate Justice of the U.S. Supreme Court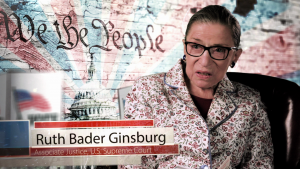 Voting is central to being a participant in America. It is the primary way citizens in the United States get to have a say in their government. We fought for independence from Great Britain because the colonists were subject to taxes and laws from a King without having any say. But after gaining independence, at the start of our country very few Americans were able to vote. To qualify for a vote, you had to own land. Also you had to be a man.
Believe it or not, women didn't win the right to vote in America until 1920, when the states ratified the 19th Amendment to the Constitution. It took over a century of protests, speeches, lobbying, marches and two wars to make it happen. During Reconstruction, when African Americans were granted the right to vote in the 15th Amendment, women were left behind. In 1875 when women argued that the Equal Protection clause of the 14th Amendment entitled them to a vote, the Supreme Court disagreed, ruling, "No argument as to woman's need of suffrage can be considered. We can only act upon her rights as they exist. It is not for us to look at the hardship of withholding."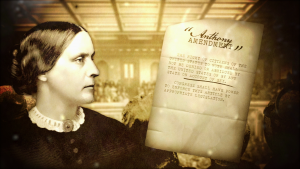 The 19th Amendment: A Woman's Right to Choose tells the story of the women who fought for one the most fundamental rights in the Constitution. They faced down mobs and Presidents, cut deals in the backrooms of Congress and State Legislatures, were beaten and arrested and went on hunger strikes in prison, all so that half of the population would no longer be excluded from having a say in the people who governed their lives.
Further Reading
Read the text of the 19th Amendment
Learn more about the fight to ratify the 19th Amendment
Learn more about Susan B. Anthony
Learn more about Elizabeth Cady Stanton
Learn more about Carrie Chapman Catt
Credits
Directors, Gregory Blanc and Robe Imbriano
Writer, Robe Imbriano
Narrator, Robe Imbriano
Producers, Gregory Blanc and Marc Tidalgo
Editor, Marc Tidalgo
Animation, Thomas Curtis and Rob Donnelly
Photography, Edward Marritz, Brett Wiley and Roger Grange
Senior Production Associate, Melissa Saucedo
Sound, Mark Mandler, Kristi Pelzel, Roger Phenix and Pete Penebre
Music, Audio Network
Online Editor, Evan Anthony
Re-recording Mixer, Neil Cedar, Sync Sound, Inc.
Head of Production, Whitney Johnson
Production & Post Coordinator, Dana Germano
Production Accountants, Mara Connolly, Andrea Yellen and Selen Esendal
Assistant to the Executive Producer, Willa Jones
Senior Producers, Wendy Roth and Kayce Jennings
Executive Producer, Tom Yellin