About the Film
On May 20, 1957, a bomb went off at the Cleveland home of Don King, who would later gain worldwide fame as a boxing promoter for Muhammad Ali and other champions. But at the time, the police knew Donald King as a man with a record for running the numbers game, an illegal lottery. The Police had a tip implicating a man named Ogletree in the bombing. The tip also told them where they might find him.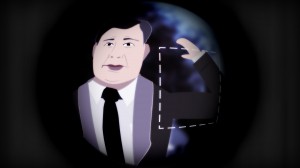 When Cleveland police officers knocked on the door of Shaker Heights resident Dollree Mapp, they expected a fight. They had no idea how far that fight would go. Mapp knew her rights and asked for a warrant, and when the police couldn't produce one she refused to let them into her house. But they came in anyway, searched her house and found Ogletree. They also found pornographic drawings, and arrested Dolly Mapp on obscenity charges.
Police are supposed to obtain warrants if they want to search a place without the consent of the occupant. But at the time of Mapp's arrest, if they didn't have a warrant and conducted a search anyway, anything they found was still admissible in court. Whether or not the search was legal or illegal had little bearing on the use of that evidence in court. But that was before Dolly Mapp.
Search and Seizure: Mapp v. Ohio is the story of one of the most iconic cases in the history of  the United States Supreme Court. Through the voices of scholars, legal minds and people involved in the case, Search and Seizure tells of one woman's fight to ensure that the rights of all of us are protected.
"I could not just ignore this," Dolly Mapp says in the film. "If the search was illegal, then you got the law on your side."
Credits
Writer, Producer and Narrator, Robe Imbriano
Associate Producers, Gregory Blanc and Tiffany Hagger
Editor, Marc Tidalgo
Graphics Animators, Victoria Nece and Hiroaki Sasa
Photography, Edward Marritz
Production Associate, Emily Tango
Coordinating Producer, Heidi Christenson
Sound, Mark Mandler and Mark Roy
Music, Gavin Allen and Ben Decter
Production Accountants, Mara Connolly and Andrea Yellen
Assistant to the Executive Producer, Jo Budzilowicz
Senior Producer, Kayce Freed Jennings
Executive Producer, Tom Yellin